Belcoo O'Rahilly's
News
U13 Girls Start With A Win
Sep. 13, 2018
U13 Girls Section A: Erne Gaels 0-1 v 3-12 Belcoo
Belcoo U13 Girls got their season up and running with a good win against a young Erne Gaels side. The O'Rahilly's were 3-12 to 0-1 winners by the end as they worked some well taken scores and made some good blocks in the defensive end to prevent the home side adding to their tally.
The games opening score came on three minutes when goalkeeper Riona Keaney made a smart save, she then gathered the ball and found Sam Martin down the right wing, a neat crossfield pass into Sinead Barrett seen her gain possession and pop the ball over the top to younger sister Eve for her to split the posts. The sisters combined for a similar score two minutes later before Erne Gaels halved the deficit on 7minutes, 0-2 to 0-1.
Belcoo would begin to assert their dominance around the middle sector, Ciara Parker snapping onto several break balls with birthday girl Eimear Gray out in front to claim some great ball and use it well. Abbie McGovern was showing really well and proving a good link as attacks developed while Rachel Nolan registered a first goal on 9minutes having shown good hands to collect an offload from Eve Barrett.
Scarlett O'Connor was making good use of the ball with Sinead Barrett and Sam Martin heavily involved in all the O'Rahilly's best work. A brave bit of play in the middle by Ciara Parker seen her turnover the ball, it was worked between Sam Martin and Eve Barrett before Sinead Barrett slotted over. Sinead would claim the next kickout and she slipped it to the supporting Rachel Nolan to kick a point. 1-4 to 0-1 Belcoo now led.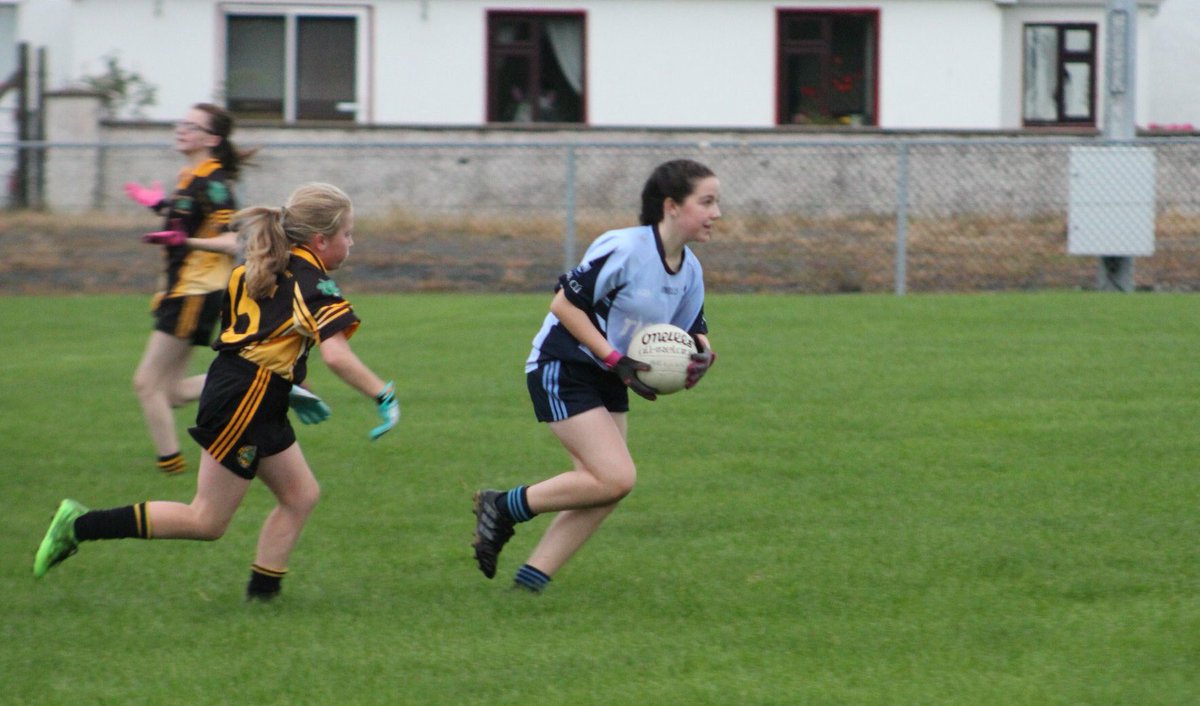 Eimear Gray takes her side up the field during the first half of Thursday's victory
Another full length move beginning with a block by Ciara McGuinness seen Riona Keaney gather and clear to Sinead Barrett, the ball was worked well from here between Cara Gray, Sam Martin and Scarlett O'Connor for the former to knock over the point. Coming to half time, Ciara Parker claimed another kickout, Niamh Cullen, Eimear Gary and Abbie McGovern were all involved down the right before Eve Barrett slipped in for the point. Half time. Erne Gaels 0-1 v 1-7 Belcoo.
The O'Rahilly's continued to hold the upper hand and a goal from the restart added to their lead. Sam Martin and Scarlett O'Connor worked a one two as they created the chance for Rachel Nolan who drilled low to the net. Sam Martin and Sinead Barrett followed up with point before the younger crew made their bow from the bench.
Emilie McCallion quick to make her mark with a goal from close range. Caitlyn Nolan swooped onto some good ball in the defensive third with Cairenn McGrath keeping possession moving forward in the middle sector.
Eve Barrett fisted over a clever score before being replaced while Riona Keaney was taken out of goals to score the last two points of the game in the attack. Lisa Lavery and Serena McKeown got stuck in over the closing stages as the Blue ran out handsome winners.
U13s are at home to Derrygonnelly on Saturday at 5.30pm, players to be at the pitch for 5pm. Training continues Monday for u13 and u16 girls from 7pm to 8.15pm.
Team (12 a side) Riona Keaney (0-2), Ciara McGuinness, Eimear Gray, Ciara Parker, Cara Gray, Niamh Cullen, Sam Martin (0-2), Sinead Barrett (0-3), Scarlett O'Connor, Eve Barrett (0-4), Rachel Nolan (2-1), Abbie McGovern. Subs. Emilie McCallion (1-0), Caitlyn Nolan, Cairenn McGrath, Lisa Lavery, Serena McKeown.
You must be logged in and associated with this team to post comments. If you are logged in and associated with this team, then your user association type does not have sufficient permissions to post comments.